Please enter search criteria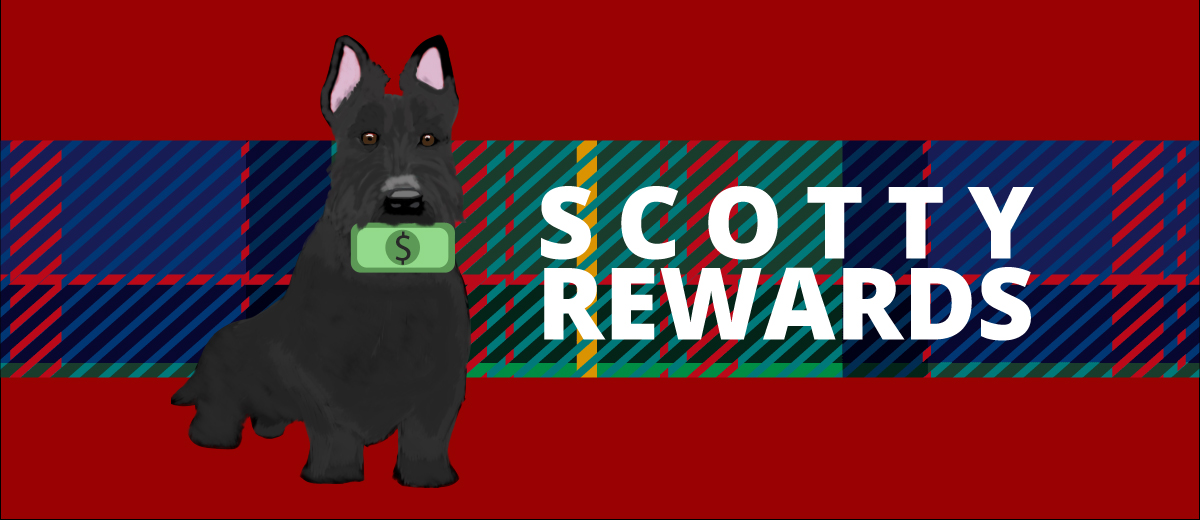 Earn Points When You Spend!
What is the Scotty Rewards Program?
The Scotty Rewards Program is a loyalty program for University Stores customers (Campus Store & Art Store). Customers can earn points when they make purchases, and use those points to get money off future purchases. Scotty Rewards Members are the first to know about special store discounts and events, and get special access to giveaways!
---
How do I sign up?
You can join Scotty Rewards in store or online. If you're in the store, a sales associate will ask for either your Andrew ID number or your phone number. If you're signing up online, please create a profile here and opt in for rewards! You can create an account using your Andrew ID number (9-digit number found on the front of your Andrew ID) OR a 10-digit phone number.
---
What are Scotty Rewards Points worth?
You earn 1 point per $1 spent and each of those points is worth 5 cents.
---
When can I use my points?
Points become available for use 30 days after they are earned and expire 1 year after they become available for use (395 days after they are earned).
---
How do I access my account?
Once your account has been created, you can view your point balance and change your account information online. If you're in the store a cashier can look up your account information at the register.
---
Can I be a rewards member if I'm not a student?
Of course! We encourage faculty, staff, alumni, and anyone who just loves CMU to sign up. We'll usually ask that you register using your Andrew ID #. If you don't have an Andrew ID, you can use a 10-digit phone number as well.
---
Can departments create rewards accounts?
Unfortunately, we can't offer rewards on purchases made on Oracle strings or P-cards. We encourage departments to continue using the existing departmental discounts offered by the stores!
---
Do I get my points back if I make an exchange/return?
Points are non-refundable. When you return an item you used points to purchase, you'll get back the money you spent after the point discount.
---
Are items ineligible for rewards?
Yes - there are certain items rewards points can't be earned or used on. Those items include: Batteries, Balsa Wood, Calculators, Class Rings, Computers, Course Packets, Custom Framing, Custom Ordered Gifts, Food, Headphones, Trade Books, and Textbooks.
The University Stores
Cohon University Center
5032 Forbes Avenue
Pittsburgh, PA 15213
Contact Us
|
About Us
STORE HOURS:
Mon-Fri: 10-5
Sat: 12-4