Please enter search criteria
*Purchase your gifts by December 15 for regular UPS ground delivery before the holiday. We will ship within the US all orders submitted by 10am EST Friday, December 22, 2023.
The Carnegie Mellon University Store will be closed Friday, December 22 at 11:30am for Winter Break and reopen Wednesday, January 3, 2024.
Orders will continue to be accepted online but will not ship until we resume normal shipping on January 3, 2024.
*** Limited Edition Holiday "Drew" Bear FREE with purchase of $250+ ***
Confirm at checkout with an Order Comment for: FREE BEAR
While Supplies Last. 1 per customer. Not valid on Technology, Robotics Academy or Departmental purchases
Custom Regalia
If you are a student who needs regalia, please visit our Student Cap & Gown page. Custom regalia is specially made to your measurements and takes 6-8 weeks for creation. It is usually requested by faculty and instructors who intend to attend many academic ceremonies.
Carnegie Mellon University – Custom Regalia Pricing
PhD Regalia:
Gown: $745
Hood: $181
Tam: $131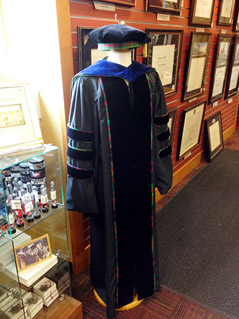 The University Stores
Cohon University Center
5032 Forbes Avenue
Pittsburgh, PA 15213
Contact Us
|
About Us
HOURS:
Mon-Fri: 10-5
Sat: 12-4
HOLIDAY HOURS
Dec. 22 (Fri): 10-11:30am
Dec 23 - Jan 2: Closed
Jan 3 (Wed): Open 10-5